I know I can't be the only one who struggles with finding gifts for parents and grandparents. Please tell me I'm not the only one!
As much as there is "joy in giving", the process of finding THE PERFECT gift for parents and grandparents that seem to have everything they need, can be quite stressful to saw the least.
There have even been times that I bought some pricier items and the recipient unfortunately wasn't able to appreciate the value of the gift.
While it can be really nice to get something fancy and expensive for our parents and grandparents, sometimes something simple but meaningful, albeit cheesy, might be a better way to go.
I have gathered some gift ideas here that I have gifted to my parents, in-laws, and my grandmother over the years. And some new ideas as well, that I'm thinking about gifting for this Christmas.
I hope you can find some meaningful gift ideas for your parents and grandparents!
**This post contains affiliate links, which means I may receive a small commission, at no extra cost to you, if you make a purchase through a link. Please see my full disclosure for further information.
Meaningful Gift Ideas for Grandparents
I have been making these custom photo calendars for EIGHT YEARS. Every year, my parents and in-laws mention throughout the year how much the love the calendar.
Especially since my parents and in-laws live far away from us, it's something they love hanging up in their home.
Last year, I was unable to make them in time (due to my poor time management). But my in-laws still have the previous year's calendar up next to their kitchen table…yeah they love it THAT much.
When I asked my mom what she wanted for Christmas this year, she said nothing other than…you guessed it: the calendar. So yes, I feel horrible that I didn't get them made last year, and will definitely make it a priority to finish these in time for Christmas this year.
Mixbook makes it really easy to upload your photos and then drag and drop them into the calendar. There is even an autofill option, so you can just click that they fill all the photo boxes for you. You can easily change up the layout on each of the pages, and add additional text and graphics if you choose to do so.
They also have tons of designs from minimalist to florals to bold styles so there is bound to be something that everyone likes!
And if you sign up for the first time, you get 50% off your order! It's a deal that is too good to pass on.
As you can tell, I love Mixbook and I was so very graciously gifted a canvas print by Mixbook last year! And I think it's such an amazing gift for parents and grandparents!
My mom and mother-in-law both love having photos up, so I think a larger canvas print of a family photo would be a great gift!
Side note: Shipping can take a while for Mixbook (especially since they're customizing each order). And can take even longer due to the pandemic. So keep that in mind, and place your orders sooner than later!
Continuing with the photo idea…
My grandmother is 95 years old. And though she is quite good with technology for her age, I think it's easier for grandparents to have photo printed out for them.
A couple years ago, I got these magnetic photo pockets and printed some photos of my son and she loves it! She has them hanging on her fridge 🙂
The quality is really great and sturdy! We have some on our fridge as well.
I feel like these personalized initial necklaces have been all the rage recently.
We got one of these coin type necklace that says "Grandma" for my mother-in-law this past Mother's Day/birthday (her birthday fell on the same day this year). And she really loves it! Here is a similar one from Sis Kiss: Coin Personalized Necklace
And I think these It's All In A Name Personalized Necklace with initials for each child or grandchild is also super cute!
I got this for my mom a few years ago, and she loved it! It's nice because you can change up the photos and the pictures change automatically, so you're not just stuck looking at one photo forever.
We got these for my parents and my parents-in-law after each of our boys were born. It comes with a no-mess ink pad for the hand print and foot print. And we did it ourselves at home (each of our boys were around 1 week old when we did it).
I thought this was another cute option!
Shameless plug here but…I have a small Etsy shop where I sell customized hand-lettered Christmas stocking tags. I know I'm biased, but I think these are a great gift! You could just gift these by themselves, or buy small stockings to go with them! Or you could use these as ornaments or gift tags as well 🙂
If I'm being honest, I feel like these can be a bit tacky (but kinda cute too), but my mom loooves these types of ornaments. She has one for each of us, and has asked me to get some with my boys photos in them.
I think these mugs are so adorable! Especially for new grandparents.
I got these socks made for my husband for Father's Day a couple years ago, and I think it's hilariously awesome. You send in photos of whatever you want put on the socks. So my husband has socks with our boys' faces on them. And he gets comments on them quite often!
I think these would make a great gift for grandparents!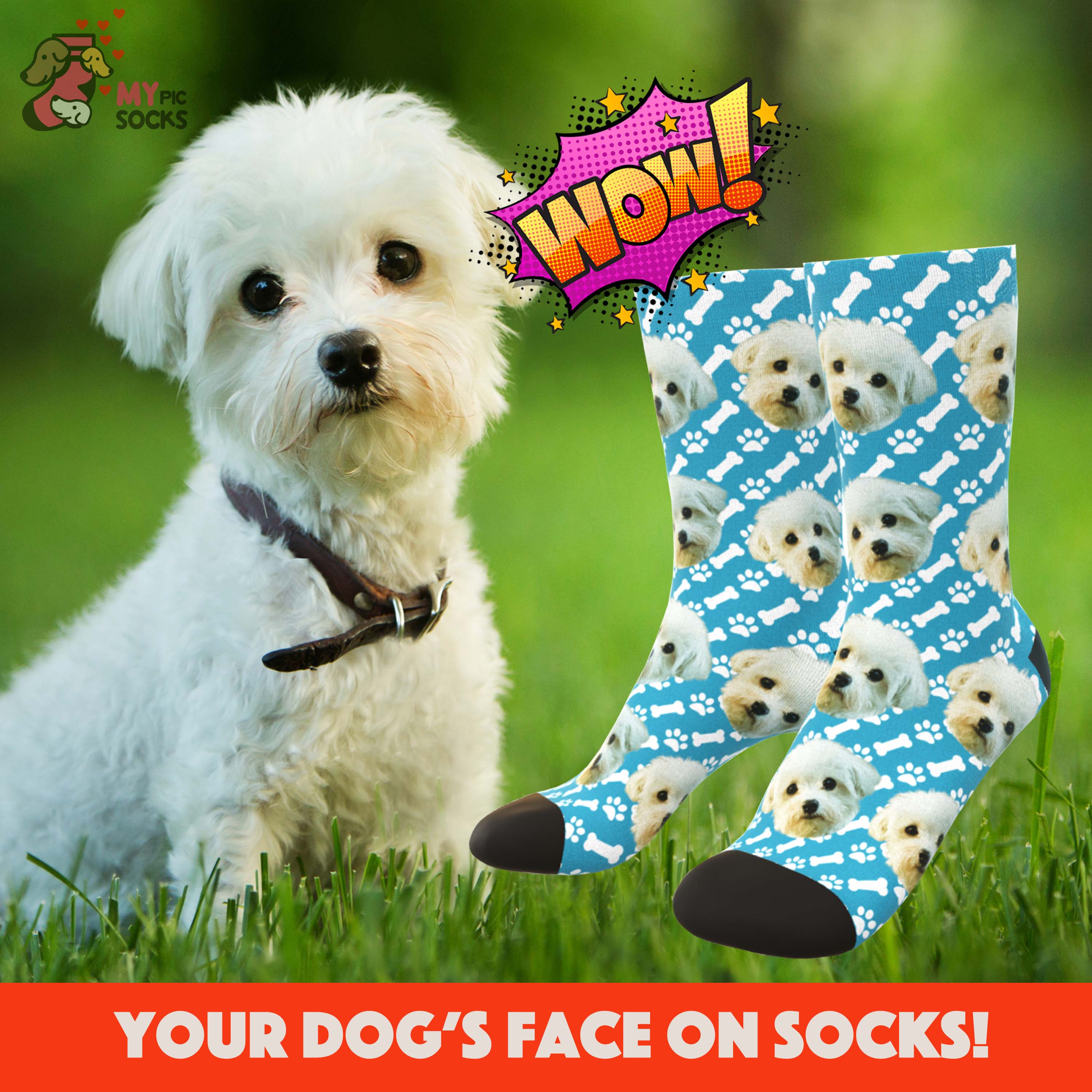 Advent Calendar
Who doesn't love a good advent calendar? Opening something up every single day is so exciting! I feel like I've been seeing more advent calendars over the years, especially catered to specific items. The other day, I saw a beer and wine advent calendar at Costco. (Which would also be a decent gift for beer and wine loving grandparents).
Anyways, last year, we wanted to do something a little special for my in-laws so we made a custom advent calendar and they loved it!
I will have a dedicated post on this soon where I will share everything we put in the advent calendar.
Handmade Gifts: Wooden Picture Frame
Last but not least, handmade gifts!
I got these wooden frames from Michael's or Hobby Lobby last year. And got my son to decorate it using paint sticks and Christmas stickers. We placed a photo of our boys in the frame and stuck a magnet on the back so that it can be hung up on the fridge easily.
Another option for the frame is this standing wooden frame.
Here is the final product!
We will definitely be doing more Christmas crafts and other making handmade gifts for grandparents in the coming weeks, so stay tuned!
Meaningful Gift Ideas For Grandparents 2021
I hope this list of meaningful gift ideas for grandparents was helpful for you as you start thinking about Christmas gift for your parents and grandparents! Make sure to check out my Christmas gift guide for kids 0-5 years old where I share lots of fun gift ideas for littles!
Recommended For You: